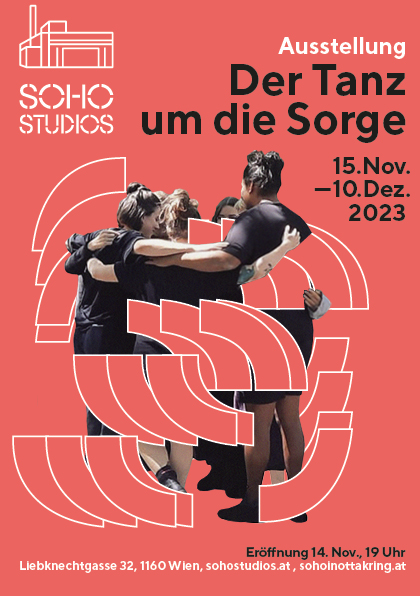 "The Dance around Care and Concern" – Exhibition
Opening: Nov 13th, 7 pm
Opening Hours: Nov 14th-Dec 10th: Wed-Sun 3-8pm
The exhibition "Der Tanz um die Sorge ­– The Dance around Care and Concern" explores complex relationships between individual responsibility and community, social participation and power and their physical effects on the body in the face of multiple crises. The exhibition shows art projects that poetically and playfully design strategies for action and scenarios for overcoming the crisis and serves as a place for dialogue and critical reflection.
As a result of an open call, four artists (István Antal, Alex Iwanov, Shahrzad Nazarpour, Michaela Schwentner) and one architect (Hannah Mucha) were selected for the exhibition. In addition, the artists Ege Kökel, Alfredo Ledesma and Thomas Hörl & Peter Kozek will show the results of their ongoing work processes in the exhibition.
In their multifaceted works, the participating artists deal with complex and at the same time artistically, symbolically and poetically exaggerated themes relating to power, abuse of power and their physical effects (István Antal, Shahrzad Nazarpour), with the fragility of the impaired body in society (Alex Iwanov), with aspects of the hidden nature of essential care work (Hannah Mucha) and of not caring in a lost relationship with nature (Michaela Schwentner).
Beyond this, however, a change of perspective takes place in all projects, through which apparent hopelessness is transformed into vigour, strength and subtle power. The focus is on joint action as a sensual-creative work process (Ege Kökel) and opening the senses to a symbiotic perception of nature and care (Alfredo Ledesma & colleagues). The same applies to Thomas Hörl & Peter Kozek. With the help of "SANDY", they bake the dreams of Sandleitner neighbours. SANDY was created at the invitation of and in collaboration with Kulturlabor Gemeindebau der wohnpartner.
All contributions are a stimulus, an appeal to enter into relationships, to resist with all senses, to co-operate and to join forces.
& local activities: Heuschnitt – AUGENWEIDE, Wolle& Garn
István Antal
Throne No2
Throne No2 is an interactive installation that explores traditional symbols of power and strength.
The installation consists of two interlocking thrones that rotate in a vertical position. The sculpture contains a rotating element that gives the installation a dynamic and ever-changing dimension.  It attempts to critically question the hierarchical systems and power structures that determine our lives. In this way, a physical and mental battle is triggered in the users of the installation, as they struggle to see who is in the most comfortable position at the top.  The aspect of rotation symbolizes the constant flux and changing dynamics of power in society.
It underlines the importance of questioning existing power and social norms. Viewers are invited to reinterpret the symbolism associated with the throne and reflect on their relationship to power, control and balance.
István Antal (*1987)
studied TransArts at the University of Applied Arts Vienna. He lives and works in Vienna. In his artistic work, he often deals with the phenomenon and mechanisms of games. His interactive installations, which are placed at the interface of visual and applied arts, usually take place in public spaces.
https://istvanantal.at
Thomas Hörl & Peter Kozek
SANDY
The artist Thomas Hörl has created the mobile sculpture SANDY, loosely based on the name of the social housing complex 'Sandleitenhof', the dried-up Ottakringer stream and the legendary little water sprite that lives there. Over the summer months, the good-natured spirit wandered through the Sandleitenhof and fed on drawings that represent the dreams of residents and passers-by.
In a further transformation process, the dreams are translated into various baking moulds and models by Thomas Hörl. In the exhibition "Der Tanz um die Sorge", both the drawn dreams and the model moulds and the edible cakes baked with them are on display. The cycle of moulding and incorporation is thus completed.
Peter Kozek and students from the Angewandte Performance Lab will accompany Thomas Hörl's contribution to the exhibition with several performances.
"SANDY" is an art project by Thomas Hörl & Peter Kozek (Angewandte Performance Lab) in cooperation with Kulturlabor Gemeindebau, wohnpartner and SOHO in Ottakring.
Peter Kozek, *1972, works mainly in the fields of performance, installation, drawing and video/film and public space. Kozek studied singing, was an extra in various theaters and studied cross-media art at the University of Applied Arts Vienna under Brigitte Kowanz from 1998 to 2002. From 2006 to 2020 he was a lecturer for "Performance and Space" and assistant at the University of Applied Arts Vienna in the Department of Transmedia Art under Brigitte Kowanz. Since then he has been a senior artist at the Angewandte Performance Lab.
Thomas Hörl, *1975, studied fine arts in Vienna, Reykjavík and Tokyo after graduating from the sculpture school in Hallein. Participation in international artist-in-residence programmes and numerous collaborations with Peter Kozek. Scholarships and awards such as the annual scholarship and sponsorship award from the province of Salzburg, the City of Vienna Prize 2021 (with Peter Kozek), the outstanding artist award from the BKA (with Peter Kozek), the Theodor Körner Prize, the H13 Lower Austria Prize for Performance (with Peter Kozek) and the BKA State Scholarship for Fine Arts.
Alex Iwanov
Die Poetik des Pacings
In the video installation with an independent soundtrack Die Poetik des Pacings, Alex Iwanov uses texts by Ilse Aichinger, the body and a therapeutic concept called pacing which is used in the treatment of long covid and the chronic fatigue syndrome, as poetic weapons against self exploitation, heteronomy and powerlessness. Pacing requires the careful use of the limited ressources you have as a sick person. Alex Iwanov's work is a gentle battle for a world where sick persons can, should, must also participate at their own pace. A slow search for a life with limited resources. A careful dance for a limited body on a limited planet. The body you see in the videos is protected by clothes designed by amaaena, a viennese genderless fashion label.
Alex Iwanov (he/they/none) studied Physical Theatre at Accademia Teatro Dimitri, Curating live Arts at Paris Lodron University Salzburg and LMU Munich and 2021/22 electroacoustic and experimental music (elak) at mdw in Vienna. He works as an artist and as a curator in the fields of performance, dance, theater, video, film, radio and sound arts. He lives in Vienna.
Ege Kökel
ALONG THE YORGAN
When you think about future, how do you feel? Hopeful? Worried? Or a mixture of both? What keeps you awake in the middle of the night? These questions were the focus of the workshop series held at SOHO STUDIOS in the first half of 2023. The starting point of this workshop series was quilting as a traditional manufacturing method for quilts, which has been used in Anatolia for centuries. The traditional quilts or yorgans offer their users comfort through their healthy materiality and by being decorated with ornaments such as clovers, vines or peacocks – symbolic motifs for prosperity, eternity and peace. Referring to this tradition, the workshop participants put their thoughts and worries about the future on paper in the form of new motif designs. The motifs were then adapted by Ege Kökel and a new quilt, a new yorgan, was created. This was then produced by the artisan Nahya Güzelyurt in Turkey. An installation depicting the collaborative and slow process of making the quilt, as well as the quilt itself, is part of the exhibition "Tanz um die Sorge". All workshop participants are cordially invited by Ege Kökel to view the Yorgan together for the first time and to present it to the visitors. The visitors are invited to spend time on the quilt, browse through the pages of the accompanying booklet (made in cooperation with Klara Haug, Antonia Herrmann, Cornelia Eiter, Luca Ruhri and Fiona Albrechtsberger – Institute for the Artistic Teaching Profession, Academy of Fine Arts Vienna) and thus gather an insight into the making process of this collective security blanket. 
Participants (in alphabetical order):
Antonia Herrmann, Begüm Can, Cornelia Eiter, Fadime Aslan, Fiona Albrechtsberger, Gerda Baser, Giulia Fabro, Gökçe Göbüt, Huda Hussein, Ifrah Abdirahman Ali, Julie Murmann, Karin Gruber, Klara Haug, Lena Violetta Leitner, Lenka Strnadova, Luca Ruhri, Enesi M., Nayeun Park, Senem Kahraman, Yolanda Oyuela.
supported by the initiative kültüř gemma!
Alfredo Ledesma
Reflection with the wind
With the collective creation of a sculptural monument in the Kongress Park, both dynamic and temporary, Alfredo Ledesma creates a communal experience. By intervening in the public space and placing urban encounters with other beings at the center, he aims to stimulate a collective and individual imagination of other possible relationships between humans and non-human beings and life forms. Various entities are given a voice: it is the oceans and winds that manifest themselves through sound, movement and a reflective, transparent and opaque foil in space and time.
Through the ritual of a collaborative practice, the participants' bodies became the starting point for experience and reflection. Bodies became a bridge to perceive the world and to relate to humans and non-human beings in a mindful practice of solidarity that respects the needs, forms and dynamics of others. This practice should encourage us to move away from the human-centered perspective and allow for diverse relationships with our environment. The project also takes the form of a video and has as its starting point a performative experience that took place in the Kongress Park in June.
The performance was designed and realized in collaboration with students from the Institute for Artistic Teaching (IKL) at the Academy of Fine Arts Vienna (Artistic Collaborative Practice course, director: Hansel Sato), Sarah Erich, Sophie Greistorfer, Klara Haug, Clarissa Handl, Laila Reichenpfader, Julia Schener und Antonia Steiner.
Alfredo Ledesma is a doctoral student at the Academy of Fine Arts Vienna. Third generation of a Peruvian silversmith family, who taught him art as a medium to convey an Andean worldview. Influenced by his family background with indigenous Andean and local, agricultural roots in the Amazon region and growing up in a modernizing city, the idea of the pluriverse helps him to relate to these worlds, to understand them not as mutually exclusive but as integrated parts of himself.
Hannah Mucha
Ornament und Sorge
Vienna's image is dominated by the façades of the Gründerzeit, which tourists from all over the world travel to see. Ottakring is also characterized by them, even if it is not always as splendorous as in the inner districts. The façades are catalogue goods made by workers, women* who still do most of the care work today. This work, the foundation and the supporting scaffolding of our society, remains hidden behind them.
In her diploma thesis, Hannah Mucha deals with care, care work and architecture. She observes everyday life and its spatial dimension and relates it with the history of of feminism and the Austrian women's movement as well as feminist spatial productions of the respective time.
For the city walk around the Sandleitenhof, she takes up the content of her work and develops it further.
Hannah Mucha was born and grew up in Munich. After training as a nurse, she studied architecture at TU Vienna and spent a semester abroad at ITÜ Istanbul. She lives in Vienna and works in an architectural office in addition to other architectural projects.
Shahrzad Nazarpour
Performance- Serie "Hair, Stones and Voices" (4th Part)
The project focuses on a specific part of the WLINTA* body (women*, lesbians, inter*, non-binary, trans*, and agender people), namely hair, which plays a critical role in the politics of female individuals in the Iranian context. As a symbol, hair embodies resistance against the repression of the regime and patriarchy and the daily violence against women and is a highly contested issue in the complex realities of WLINTA* lives. Through a series of performances, the project aims to spotlight the role of hair as a protagonist. Artist Shahrzad Nazarpour uses personal experiences from her life in Iran to illustrate that hair is not just a physical aspect, but also a place, an identity, and a stereotype, particularly for WLINTA*s from the Middle East. Ultimately, the project seeks to empower hair as a symbol of strength and self-determination.
Shahrzad Nazarpour (b. 1997) is a performance artist and director hailing from Iran. She holds a bachelor's degree in Theater from Tehran University of Performing Arts and is currently pursuing her studies in Transmedia Arts at the University of Applied Arts in Vienna.
In her artistic practice, she tries to combine her passion for feminism, inclusion, and post-humanism with her knowledge of dance, theater, and martial arts. In her art, she deals with themes of feminism, migration, racism, and various forms of discrimination.
Sujet by © Hansel Sato & Caterina Krüger